Established by the late Mr. Mohammad El-Khatib in 1976. Today, Graphco is the pioneer in the graphic arts industry committed by providing quality products and services to our customers. Since our inception, we have been able to meet the needs of the printing markets in Jordan, Palestine, Iraq and Yemen. We supply offset and digital printing sectors, providing all printing requirements in various sectors (printing press, copy centers, advertising offices, calligraphers, etc.)

The company offers alot of  services such as: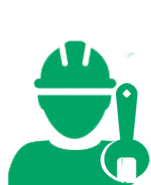 Hardware installation service on site

Consulting service.

Engineering supervision service.

Exhibition sales service

Customer service

After sales service
Don't be the next: we can help you!

Address
Amman - Jordan
156 King Abdullah 1st St.
Phone
+962 6 4901010 / +962 79 5898986 / +962 78 5898986